Key Health Attributes: antioxidants, antibacterial, blood sugar, cholesterol, weight loss, digestive aid, detox
Excerpt:
Cilantro (also called Coriander), is a flat-leaf green herb closely resembling Italian Parsley in appearance and because of the similarity, is sometimes called Chinese Parsley.  It comes from the Apiaceae family and was originally native to Europe, Africa and Asia but has since become a widely adopted staple to many styles of cooking, including Mediterranean, Mexican and Latin American. Culinary and herbal use date back as far as 3,000 BC and it has even been mentioned in the Old Testament.
Discussion:
Having a fairly distinctive taste and smell, Cilantro is used to enhance flavor while providing an abundance of nutrients.  It contains the phytonutrients carvone, geraniol, limonene, borneol, camphor, elemol, and linalool.  Flavanoids found in this nutritious herb include quercetin, kaempferol, rhamnetin, apigenin. Phenolic acid compounds caffeic and chlorogenic acid are provided as well.  Cilantro also harbors the dodecenal compound, giving it an antibacterial effect.  Studies have shown this powerful herb can be twice as effective in the treatment of Salmonella when compared to the common antibiotic drug gentamicin.
In addition to the antioxidant and antibacterial benefits, Cilantro seeds [fruit] are shown to increase the production of insulin and lower blood sugar, along with lowering bad LDL cholesterol , increasing good HDL cholesterol, and reducing lipid peroxide (damaged fat) in cell membranes.
Cilantro grows in two phases.  The first produces firm, green aromatic leaves to be harvested.  The second phase occurs approximately 30 days later, producing tall stalks that bear white or pink flowers and small, hard fruits commonly mistaken as seeds.  The seeds offer a slightly spicier taste.
The best way to prepare cilantro is to add it after your meal has been cooked.  Cooking cilantro for long periods of time can reduce its flavor.
To retain the highest amount of nutrients, wash with cold water and towel dry.  Soaking the leaves cause the water soluble nutrients to leach into the water.  It is best stored with some moisture, either in a damp towel or if the roots are still attached, with the roots placed in a glass of water and the leaves loosely covered.  Cilantro with roots will maintain up to one week, while Cilantro without roots typically lasts up to 3-5 days.  It may be frozen, but it is cautioned not to thaw before use for risk of jeopardizing its texture.
Recipe: Cilantro is generally used as a spice and garnish.
Watch this great video on Cilantro/Coriander by Dr. Nelson in UK. He discusses its health properties, history of use and comparison to other medicinal herbs: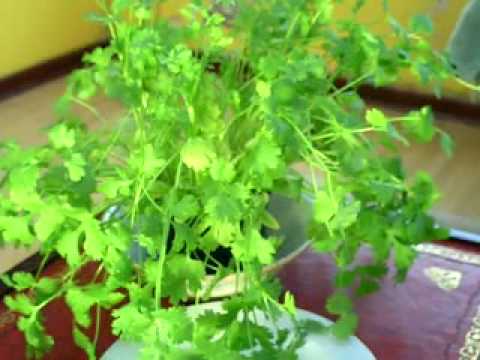 Resources Used:
Tucker, Arthur O., PhD., and Debaggio, Thomas. The Big Book of Herbs. Interweave Press.  2000
Mateljan, George. The World's Healthiest Foods. George Mateljan. 2007.
OWC Researcher Jen Awdry contributed