ESSIAC TEA, immune system stimulant, body detox, anti-cancer
Excerpt: Essiac Tea is technically not a tea, rather a decoction of herbs which can vary. In order to be true Essiac it must always contain the four essential herbs: Burdock Root, Slippery Elm Bark, Sheep Sorrel (the most potent and important), and Rhubarb Root. It is a popular natural remedy for cancer patients. Note the original formula may have had 8 herbs, the above 4, and also Watercress, Perry Wrinkle, Red Clover and thread? (See video below on how to make this natural cleansing and immune boosting tea).
Discussion and Recipe:
The recipe is originally attributed to a Native American shaman in Canada during the late 19th century.
It was later discovered by Rene Caisse, R.N., in the early 20th century.   Upon hearing of a woman whose breast cancer had been totally healed by a select mix of herbs, Nurse Caisse shared the recipe which she eventually branded as Essiac (her last name spelled backwards) in order to further extend its reach of healing.
Essiac works to stimulate the immune system and detox the body, specifically from metals.  Once the body has been cleansed, it can work with its own resources to maintain balanced health.
The traditional Essiac Tea recipe calls for (note the original tribal shaman formula had 8 herbs in the formula … it is easy to enhance this formula with other immune boosting plants and herbs):
52 ounces Burdock Root
16 ounces Sheep Sorrel
4 ounces Slippery Elm Bark
1 ounce Rhubarb Root
Combine ingredients and brew with 2 gallons of water.  Boil for 10 minutes, cover and simmer for 6-12 hours.  (Don't Microwave!)  Reheat again without boiling, then strain refrigerate. Avoid food for 2 hours before and after consuming tea for best results.
Watch this controversial decades old cancer cure video about Rene Caisse and Dr. Charles Brusch collaborating on natural cancer cures and the government intervening:
Want to learn how to make Essiac Tea? Here is the best detailed video explaining exactly how to make your own and also discussing the original shaman formula first shared with nurse Rene Caisse: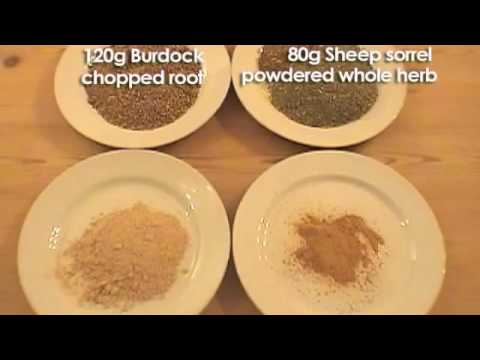 Sources Cited:
http://www.discount-essiac-tea.com/essiac-tea-benefits.html
http://www.healthfreedom.info/Cancer%20Essiac.htm
http://www.discount-essiac-tea.com/essiac-tea-benefits.html
http://en.wikipedia.org/wiki/Essiac
Jen Awdry of OWC's research team assisted in researching Essiac Tea