OWC's team met Ann Webb for the first time at National Products Expo West and sensed something different.
Upon evaluating the booth decor, the dress and energy of the team, the product packaging, and sneaking a peak at the ingredients of some of the more prominently positioned items, it became obvious clinical experience, integrity and passion were behind this product line. Our managing editor, Tom Cifelli, had a long off camera discussion with Ann Webb about the genesis of her line, her spa operations, her choice of manufacturing and supply chain partners including the decision to partner in a national roll-out with Whole Foods verses targeting the spa community, the associated business and financial challenges and the third party products she has used in her spas. This information of course must remain confidential. Turns out they know quite a bit about some of the same industry people which makes for good gossip that we will have to defer sharing for now. Tom also met with senior representatives of Whole Foods to discuss Skin Organics and other emerging brands working their way regionally within Whole Foods with expectations of their becoming the next generation of leading high quality national consumer brands. Surprisingly these folks were in true trade show mode and never asked questions regarding what Online Wellness Community is all about, and none was offered. They and everybody else will find out soon enough!
Ann Webb's "back bar" product line sold only to spas was not available for evaluation but OWC's team certainly will follow up.
Meet Ann Webb, founder of the Skin Organics personal care skin product line who clearly is achieving her vision, "I envisioned a product line that was affordable, simple to use, and contained the best pharmaceutical-grade ingredients available." Ann Webb
Ann is a practicing skin care professional with skin wellness centers in Austin, Dallas and Los Angeles and surely more to come.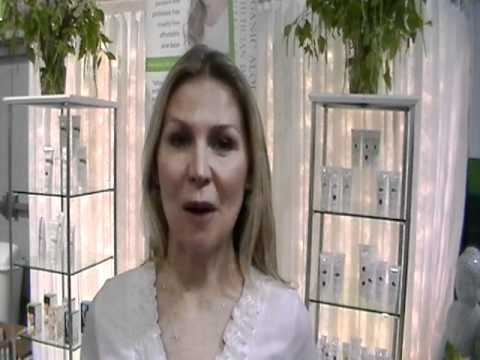 Here is a picture of some Skin Organics products formulated and produced by Ann Webb.